A Century of Innovation – the past, the present and the future
Trumans (Private) Limited is one of the few companies in Sialkot industry that can trace its history back 100 years.
Trumans is family owned manufacturing and exporting business concern of sports gloves, balls and various sports equipment and accessories. The management of the company has longstanding tradition and experience of manufacturing, export and import business spanning over 100 years – a century of leadership and product innovations. The fourth generation of the family has entered the field of international trade bringing together the established business and family values, experience and skills coupled with pertinent business education, knowledge and expertise.

THE PAST - history of product innovation
We would like to take you to the corridors of rich business history of the Trumans Pvt Ltd and its management, which has the privilege of creating and introducing new spirit and techniques of doing the business that became source of guidance in Sialkot for small and large scale industries of sports goods, medical devices and leather products since 1919 to this day.
Mr. Ghulam Nabi Shabbir (1899 – 1973)
As an institution, inspiration and mentor for individuals and Sialkot industry as a whole and with his vision, dynamism, initiative and leadership, Mr. Ghulam Nabi Shabbir brought revolutionary changes in the Sialkot export-oriented industry.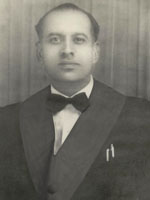 Mr. Ghulam Nabi Shabbir
He created new opportunities and make best use of what was available with limited resources and weak industrial infrastructure in Sialkot. In 1919 he established Shabbir Sports Limited which offered broad range of sports goods and accessories and in coming years he established many companies offering different products and opening up new doors. He traveled to Singapore, Malaysia, Burma, Hong Kong, Maldives, and Sri Lanka and established offices in Indian cities of Delhi, Bombay, Calcutta, Madras and Kashmir before the independence of India and Pakistan. In the history of Sialkot, he was first to establish overseas offices and companies, which were headed by company directors who were stationed abroad, in and after 1945 in the following countries.

Australia
- Shabbir Australia Pty Ltd
- Azco Overseas Ltd

United Kingdom
- Starcraft Trading Co Ltd

Spain
- Olympid Madrid

United States of America
- Ali Shabbir NY Co Inc

Canada
- Ali Shabbir Montreal Inc
In 1947 before the creation of Pakistan and India, Shabbir Sports had the privilege that one of its directors Mr. Ghulam Ali Shabbir, who was the younger brother of Mr. Ghulam Nabi Shabbir, was the chairman of India Chamber of Commerce of America, Inc New York USA. He represented whole Indian business community in United States of America.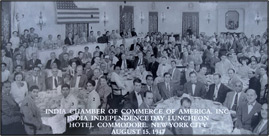 India Chamber of Commerce of America
Mr. GN Shabbir made and strengthened bond with people of different countries, cultures, backgrounds and beliefs that helped in the growth of industries of Sialkot and made it an international city that holds a great tolerance for others. He worked hard to uplift the self respect and socio economic conditions of labour and working class by developing and implementing policies to protect the rights of labour. His passion and style of doing business became rule of trade and real time example of success for others. Mr. GN Shabbir was a man of principles and he led with example and became a role model for others who followed his path of upholding fair business practices. He always shared his fortune with others and helped, guided and encouraged many people, even his out-source suppliers, in their efforts of starting export business in spite of knowing that they will become his competitors. Now many of them have become big names in their respective fields of business.
During the time of independence of Pakistan and India from British rule, the Indian subcontinent faced economic depression in and after 1947. The business activity got stand still during the turmoil due to shut down of banks, communication infrastructure and government institutions. He played an important role by building infrastructure, uplifting the social and business values and reviving the industry through initiatives and steps to improve deteriorating situation. Mr. GN Shabbir established Sialkot Cooperative Society Bank to boost the economic situation which was on down fall. Mr. Ch Zahoor Elahi was appointed the first chairman of this bank. This consolidated and improved the worsening situation and gave confidence to the industry and general people who got a window to re-organize and start their business activities and once again business transaction started taking place.
The great futuristic and dynamic vision of Mr. GN Shabbir comprehended and recognized the potential of sports and related industries in Sialkot. He worked with others to form a base for its recognition and development. He founded the Sialkot Sports Goods Association which is now A-class trade association and is now called Pakistan Sports Goods Manufacturers and Exporters Association. This development paved the way for the established of Sialkot Chamber of Commerce and Industry and other trade associations in Sialkot in later years.
His unwavering zeal and determination led the Sialkot industry on the path of immaculate quality, style, reliability and innovative product development. His success was threshold for the local industry. In 1966, he introduced in Sialkot the manufacturing of 32 pieces chrome leather football. His product innovation and development science resulted in the start of manufacturing of 18 panels football called T-shape, ski and boxing gloves of leather, cricket guard of chrome leather and many other sports equipment for the first time in Sialkot. The international buyers and local industry looked towards him for new ideas and solutions. The introduction of new product manufacturing gave impetus and life to the local industry which was facing uncertain fate due to huge migration of businessmen from Pakistan to India after 1947.
Due to these steps, the Sialkot industry has grown at an enviable pace and is today placed in the select club of export oriented industries in this region and the world.
Mr. Ghulam Nabi Shabbir's left a legacy which is attaining new heights with each passing day. We feel proud to be his legacy and hold firm to his principles and mission as high as he did all his life.
Shabbir Sports Limited – 1919
Shabbir Sports Limited has its founding in 1919 in Sialkot and was one of the first companies in Sialkot to manufacture and export sporting goods. It was the year 1919 that Mr. Ghulam Nabi Shabbir founded Shabbir Sports and pioneered the export of sporting goods from Sialkot
The company produced and exported all over the world various sports goods including badminton, cricket, cue sticks, tennis and squash rackets of wood and sports balls of leather and synthetic leather.
The Shabbir Sports had overseas offices in New York USA, Montreal Canada, London UK, Munich Germany, Sydney Australia and Madrid Spain, where the directors of the company were stationed permanently and represented and marketed the products of the company.
The company faced a declining trend in business during the years of independence in 1947 due to vast social upheaval. However, soon it regained composure and became not only one of best companies of Sialkot but also an institution, inspirational and driving force for lots of other companies and people who are now exporting from Pakistan and India. Undoubtedly, it proved to be an academia, before and after the creation of Pakistan in 1947, for the development of Sialkot export industry, which is now well known in all parts of the globe.
Indian Commercial Corporation – 1940
In 1940, Indian Commercial Corporation was established in Sialkot to export the carpets and handicrafts. It had sub offices in Srinagar now Indian held Kashmir and Travancore now in India.
The Kashmiri carpets and tapestry are well known for their exquisite designs and craftsmanship. The company sourced Kashmir made carpets and supplied to all over India and to the overseas markets. The handicrafts included decoration pieces, vase flower, ashtray, jewelry and ornament boxes, cigar cases and variety of hand made articles of brass, wild cow horns and walnut.
After the partition of India, the company has to close down its operations in territories falling under Indian rule as major raw material for its products originated from Indian states.
Gangee Sports – 1941
The Gangee Sports was established in 1941 on the name of river Ganga. The company was contract supplier of the British Army. The company was a major supplier of rope, steal tea cups and safety razors made of brass with nickel chromium plating to the British Army during Second World War. These products were used by the allied forces during the war.
The company was closed down after the end of British era and the departure of the British from Indian Subcontinent.

United Industries of India Limited – 1944
In second word war, the sheep casing was used to drop sausage for the troops in battle field.
The United Industries of India Limited was founded in 1944 and supplied the fine quality of sheep casing to the British army. The company also manufactured and supplied to the local and international customers the sheep gut, which was used in surgery and in the interlacing of badminton rackets frames. During the time of independence, a huge social and economic shift took place and all the major banks involved in international trade were closed down and during this period the company has to shut down its operations.
Trumans (Private) Limited – 1947
Trumans Pvt Ltd has its origins in Shabbir Sports Ltd. The company was established months before the creation of Pakistan in 1947.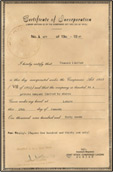 Certificate of Incorporation
In the beginning, the main products of company were shuttlecock, field hockey sticks, cricket bats, sports balls made of leather. The current products of company include all types of sports balls, gloves, clothing and various sports goods and accessories.
Shaheen Trading Company – 1957
The steel instruments and weapons like swords and knives have been major products of Sialkot for many centuries. The Moghul and the British Empire sought the skill of Sialkot craftsman to supply swords, knives and other weapons to their armies.
Later years, this skill and craftsmanship turned towards manufacturing stainless steel surgical, dental, veterinary instruments, scissors, decorative knives, swords and hand tools.
Shaheen Trading Company was established in year 1957. The company started manufacturing and exporting the surgical, dental, veterinary instruments, scissors, knives and swords. Benefiting from strong business expertise and professional commitment, soon it became one of the leading companies in this field.
Shabbir Trust – 1988 (A social welfare project)
Shabbir Trust is a social welfare project that was established with an aim to uplift the socio economic conditions such as education, human resources and community development of misfortunate and destitute people.
Keeping the tradition of helping others, the company management started this project. It has many social and economic contributions to its name for the welfare of poverty-stricken people of Sialkot and adjoining areas as well as contributing for the elimination the child labour, workers exploitation and poverty from Sialkot.

THE PRESENT
Trumans is now a leading sports gloves, balls, apparel and various sports equipment producers and exporter to all parts of the world. The company has a wide range of product depth to suit the requirements of international buyers.
The company is self driven, innovative and highly adept in its field of business combining with the strong business background and adaptable to modern techniques and requirements makes it most reliable and beneficial business partner.

THE FUTURE
We believe that our growth relies on strong founding principles and business values, product innovation and diversification, focusing on developing and sustaining the customer oriented policies, determination and hard work of dedicated and motivated individuals as an effective and successful team of competent and experienced professionals and craftsmen representing different fields of expertise and skills.
We hold firmly to these concepts and to provide wide range of competitively unique and quality products to our buyers while maintaining our integrity, honesty, loyalty and fulfilling our responsibilities and commitments inside and outside of our company.